Archived article
This article has been archived. For more information on archiving, see the Archives.
Reason: No reason has been given. Please replace this template with {{Archived|Reason}}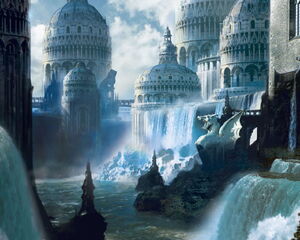 Caên Ivhaz
is a city-state on the northern region of
Vardura
. It is home to the
Chaotic Guardians Guild
.
Geography
Edit
The city is located at along the river flowing from the hill surrounding the lake Seretha. Its location near the river allows it to trade with foreign countries.
Starting from the lowest part of the city you can find the Serethanian Wall that spans around the entire hill. 4 gates can be used to enter the city, boats will have to enter through the river when the chains are dropped. These chains are connected with two towers that are connected with a bridge rigged with explosives incase the enemy has entered the city and tries to bring in reinforcements through the river.
The lowest levels consist mostly of housing for the farmers from outside the wall and craftsmen who work in the second level. In the second level you can find the markets and shops where you can buy your every need, carts are not allowed to be brought on the streets during daytime; once the sun sets they are allowed on the street.
On the thrid level you can find the library, guild, military garisson and armory. A seperated section is also positioned here for the few mages from Vardura. The city's Royal Palace (would the Ziphyo king ever visit the city) is located at the top of the city on a small island of which two drawbridges connect it with the rest of the city. When following one of the two paths down to the city you will pass the 'Thuren', two large towers that act as towers, gates and beacons, all in one. A wall extends around the hill to ensure nobody can enter Seretha without the city being aware of it.
Ad blocker interference detected!
Wikia is a free-to-use site that makes money from advertising. We have a modified experience for viewers using ad blockers

Wikia is not accessible if you've made further modifications. Remove the custom ad blocker rule(s) and the page will load as expected.